MAC Surf Baby Blushette Bound for Love Review, Swatches
MAC Blushettes were a part of the Surf, Baby! Collection..Bound for Love and Barbara Ann were the two shades launched in the collection..
MRP: $21.50 ($18.50 on sale) for 4.2g. Available
HERE
It comes in a small swivel twist up tube packaging..like the Lakme Cheek Artist from the Fantasy Collection.
It has a black holder cap on top..so the product does not spread or melt inside..
Barbara Ann is a bright coral orange..looks gorgeous.
Bound for Love is a warm rosey mauve pink with subtle silver shimmer..it gives a natural flush to the cheeks..a soft rosy sheen..can be worn everyday and does not look OTT..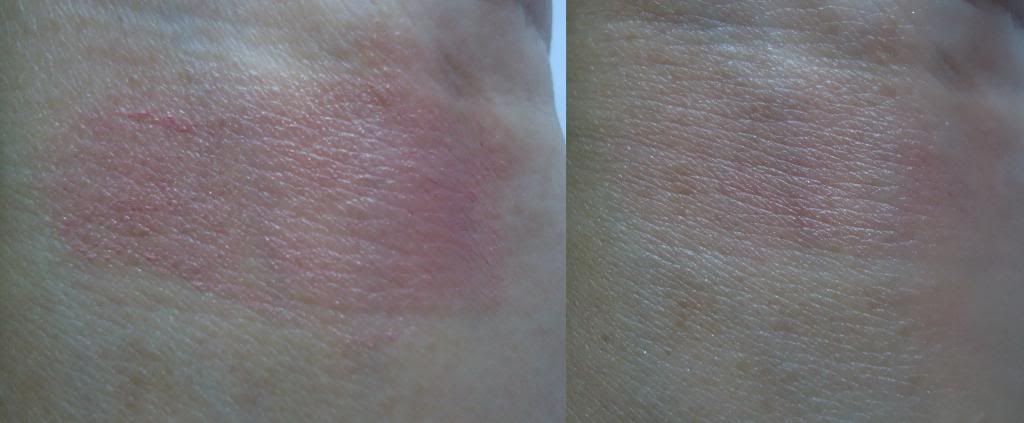 Unblended, Blended
But the shade is a little sheer and needs a few swipes for the color to show up..and staying power is also average..stays for 3-4 hours and then starts fading..
Pros:
1. Easy swivel up stick...comfortable to carry too.
2. Warm mauve pink..would suit medium to fair skintones..gives a nice natural flush to the cheeks.
3. Pretty packaging.
4. Does not look OTT.
Cons:
1. Staying power is average.
2. Shade needs a few swipes to show up.
3. Availability is an issue..and this was LE...available on
Brigette's Boutique
though..
Overall I quite like these cream blush stick concept..those are quite easy to carry and use..and this shade gives a natural rosy flush to the cheeks with subtle sheen..perfect for office or everyday use...
Rating:
Quality: 3.75/5
Value for money: 3.5/5
Availability: 3/5
Overall rating: 3.5/5
Would I buy it again: Well its a LE..otherwise would surely
Have you tried MAC Blushettes ?
P.S: Sent by site for review. Honest Opinion.