Sleek MakeUP Matte Me Rioja Red, Gloss Me Kiss & Tell, Cranberry Crush Review, Swatches
I had mentioned about Sleek MakeUP's Matte Me and Gloss Me
HERE
What the Company claims: With 6 stunning shades to choose from, Sleek MakeUP's Gloss Me will be the name on everyone's lips, literally.
At last, long lasting lip gloss with plenty colour power as well as staying power is finally here! Strong pigment takes lips from normal to note-worthy in just one slick. The versatile make up bag staple can be layered over lipstick for extra gloss or used alone.
Gloss Me Shades: Fools Gold, Rosé, Bella of the ball, Kiss & Tell, So Berry and Cranberry Crush
These new lip creams say goodbye to cracked or dull mattes and introduce hydration to the matte world! NEW Sleek MakeUP Matte Me comes in a variety of 6 colours packed with pigment, and full of moisture. Go bold with deep red and purple, or be understated with pink and nude. Alternatively, set your artistic side free and use together to make your own signature shade.
No smudging or budging means matte truly is back to stay.
Matte Me Shades: Fandango Purple, Brink Pink, Rioja Red, Party Pink, Petal & Birthday Suit
Gloss Me RRP
£4.99 or $6.99 each
Matte Me RRP
£4.99 or $6.99 each
Today I am reviewing the shades 438 Kiss & Tell and 439 Cranberry Crush in Gloss Me and 433 Rioja Red in Matte Me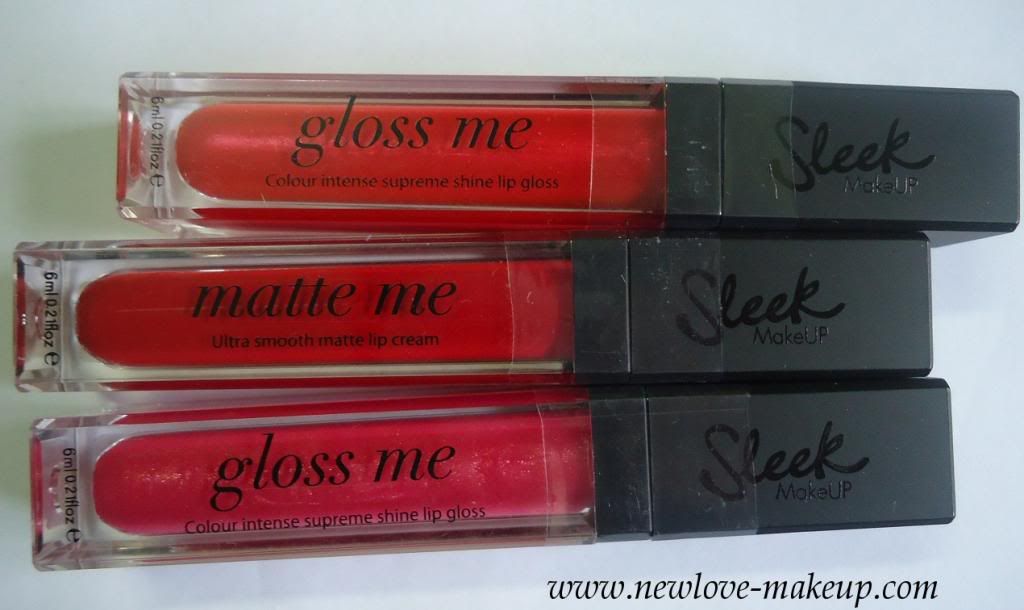 Comes in a regular square transparent gloss packaging with a black cap..has a doe foot applicator.
Kiss & Tell is bright orangey blue toned red with silver bluish shimmer and Cranberry Crush is a sheerer watermelon pink with silver shimmer again.
Rioja Red is a bright blue toned true red.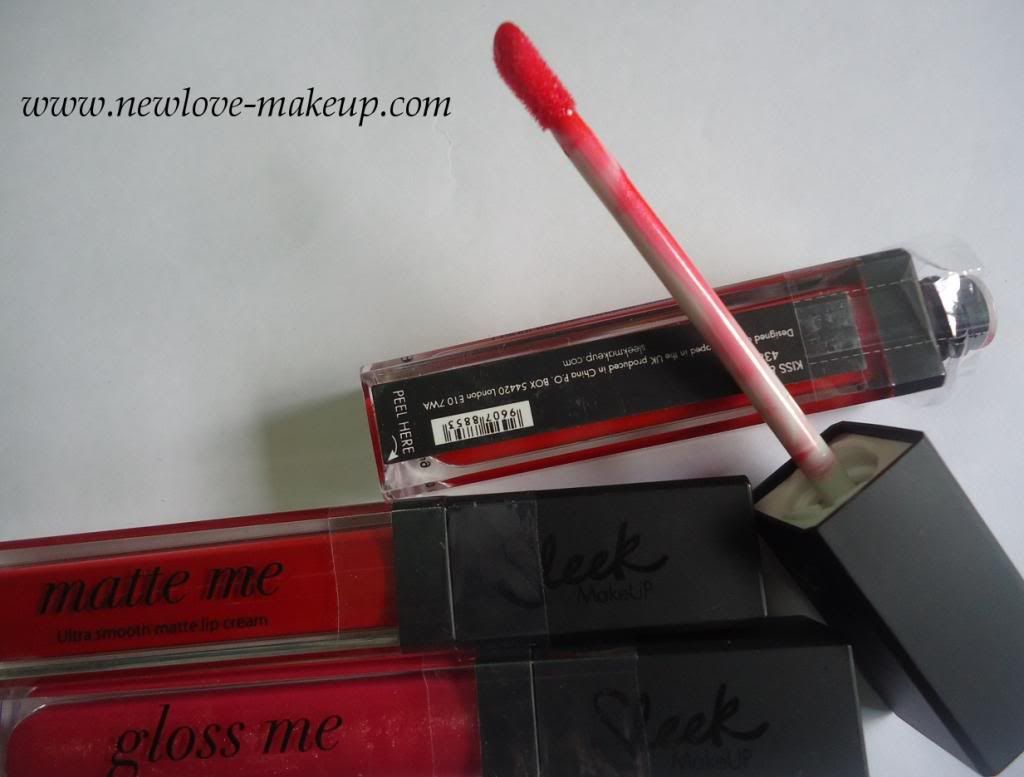 Gloss Me are loaded with shimmer and sticky in formula..though they stay well and are good in pigmentation..I would say these are like any other normal glosses..nothing too different..
On the other hand, Matte Me are amazing..completely matte but yet non drying, full opaque coverage..and stays well..but ya they do flake a little with eating and drinking and needs to be reapplied...and one has to apply neatly with a brush and work before it sets which is about in a few minutes..
Swatches..my mehendi is peeping in :p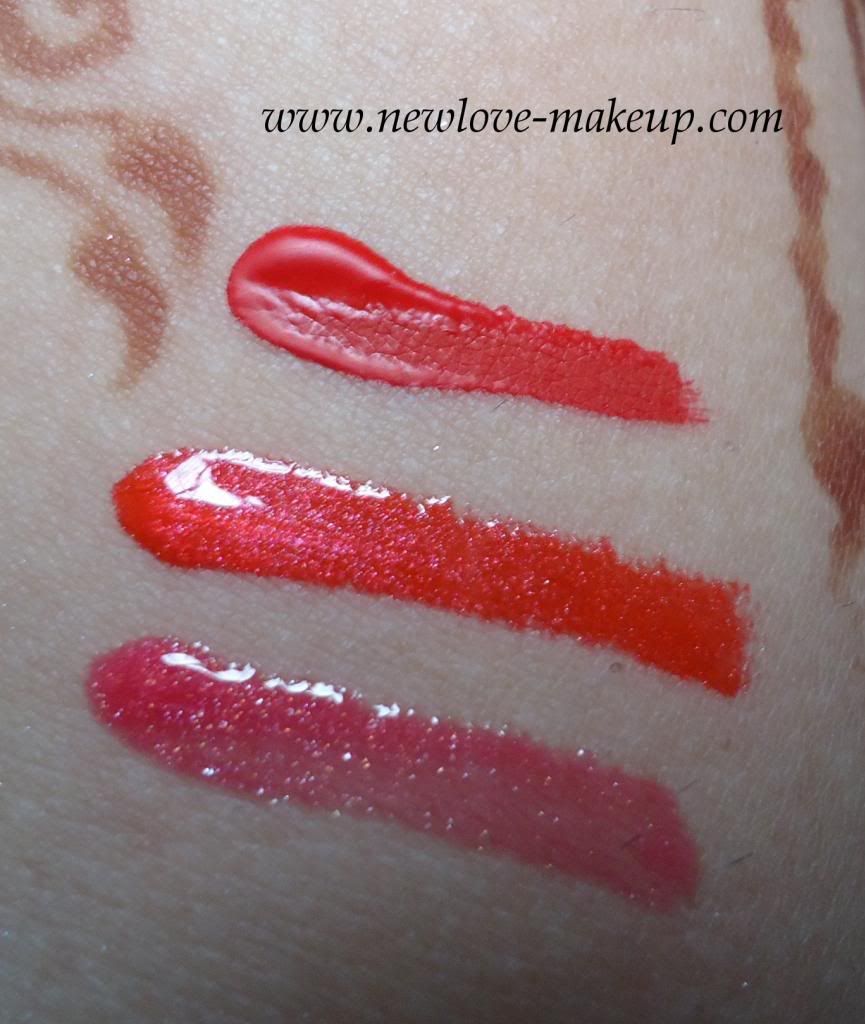 T-B: Rioja Red, Kiss & Tell, Cranberry Crush
Here is it on me..
L-R: Kiss & Tell, Cranberry Crush, Rioja Red
I made the mistake of not using a lip brush for Matte Me..and sorry for the uneven application..I would suggest using a lip brush for Matte Me for a neat, even and proper application..it takes some time to set..but once set is completely matte.
Overall I loved the Matte Me..and found the Gloss Me pretty ok..good in pigmentation and staying power..I would have preferred less stickiness and shimmer though..
Rating:
Quality: Gloss Me: 3.5/5, Matte Me: 4/5
Value for money: 3.75/5
Availability: 3/5
Overall Rating: 3.75/5
Would I buy it again: Yes..the Matte Me especially.
Have you checked out the new Sleek MakeUP Gloss Me and Matte Me Range ?
P.S: PR Sample. Honest Review